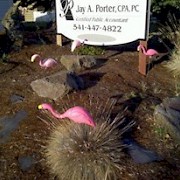 Phone1

: 541-447-4822

Fax

:

541-447-4865

Adres

:

896 NE 3rd St, Prineville, Oregon 97754

Category

: Accountants, CPA's

SHARE





About Jay A. Porter CPA PC:
Our firm offers a wide range of services to our individual and business clients. Because our firm is relatively small, our clients benefit by getting personalized, quality service that is beyond comparison. Our services include: accounting services, tax preparation, and counsel.
Jay A. Porter CPA PC Map:
Jay A. Porter CPA PC Facebook Page: