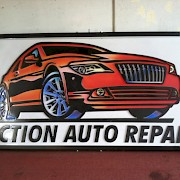 Phone1

: 541-604-5035

Phone2

:

541-447-8658

Web

: www.actionautorepair.biz

Adres

:

131 NE 5th Street Prineville, Oregon 97754

Category

: Auto Parts, Repair, Tire

SHARE





About Action Auto Repair Inc:
ACTION AUTO REPAIR
FOREIGN & DOMESTIC AUTOMOTIVE REPAIR IN PRINEVILLE NOW OFFERING AFFORDABLE AUTO BODY
When you want expert mechanical or autobody repair in Prineville, Oregon.... Come to the best…come to us!
We've been in business and family-owned since 1998. We repair all foreign and domestic makes and models.
We have highly trained on-site mechanics at our 7800 square foot facility and we have state-of-the-art computer diagnostic tools.
We offer a number of services that make repairing your car easier for you such as towing. If you are broke down, call us! We will help get your vehicle to our shop and repaired quickly so you can get back on the road again.
We have secure on-site vehicle storage. Drop in's are welcomed.
Nightly drop off's "key box" on front of business, on right hand side of the door.
Call: 541-604-5035 to make appointment
Services
Action Auto Repair offers complete automotive repair for all
Makes and Models, Foriegn or Domestic, Cars, Trucks, Vans, and Diesels.
We also work on RV's, Small Engines and ATV's.
We do everyting from Basic Maintenance; Belts, Hoses, Tune-ups, Batteries, to Full Service Oil Changes (starting @ $30 up to 5 qts.), Full Service Diesel Oil Changes (starting @ $89 using Delo 15W40), Transmission Flush, Radiators, Shocks, A/C, Lights, Wipers, Starters, Alternators.....
To the Large Jobs; Engine or Transmission Removal and Repair, Front Suspensions, Steering, Drive Lines, U-Joints, Rear End Repairs, Brakes/Rotors, Computer Modules, Sending Units.....
No Job is Too Big or Too Small, We Do Them All!!
We have State of the Art Computer Diagnostic's for All Vehicles from the 1980's up to the present.
We now offer Affordable Auto Body & Paint, and we will bill your insurance for you!
Free Collision Repair Estimates. We'll meet you and learn about the history of your car. Our technicians will then prepare a detailed estimate of what they'll do to repair your car.
We Guarantee All Our Work!
All makes and models, we do all repairs, computer diagnostic's are always free!
Stop by to make an appointment or call!
Owner: Greg Nelson
Regular Hours:
Mon - Fri :8:00 am - 5:00 pm
Action Auto Repair Inc Map:
Action Auto Repair Inc Facebook Page: