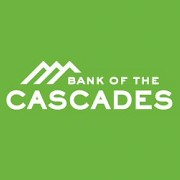 Phone1

: 541-447-6242

Phone2

:

541-447-4105

Web

: www.botc.com

Adres

:

555 NW 3rd St, Prineville, OR 97754

Category

: Bank, Loan Agency, Credit Union

SHARE





About Bank of the Cascades:
Bank of the Cascades is the principal subsidiary of Cascade Bancorp (NASDAQ: CACB). Headquartered in Bend, Oregon, we deliver personalized relationship banking, competitive financial products, and advanced technology for the convenience of our customers.
Founded in 1977 with our first branch at the corner of Third and Revere Streets in Bend, Bank of the Cascades today offers full-service community banking through a network of 39 branches throughout Central Oregon, Southern Oregon, Willamette Valley, and Southwest Idaho.
At Bank of the Cascades, our Directors, Executive Leadership and Staff are proudly involved in our respective communities. We not only provide financial support to many local causes, yet also proudly and tirelessly volunteer our time and energies to a wide variety of community, business and charitable organizations.
Our Mission and Values
At Bank of the Cascades, our mission and values are not simply words on paper. They are ideals and standards to which we hold ourselves and live by every day, through every customer and company-wide interaction.
Our Mission
We are dedicated to delivering the best in banking for the
financial well-being of our customers and shareholders.
Our Value Statement
The "best in banking" is…
PEOPLE
We place our highest value on people and take pride in exceeding expectations.
Bank of the Cascades Customers are provided personalized service and products with the convenience of informed choice.
Bank of the Cascades Bankers are provided challenges, recognition, and opportunity and are empowered in an atmosphere of mutual trust and respect.
INTEGRITY
We are guided by honesty, loyalty, fairness and trust.
SERVICE
We devote time, talent and resources to our customers and the communities we serve.
INNOVATION
We apply technology and banking solutions for the benefit of our customers and bankers.
PERFORMANCE
We strive to achieve high financial performance for the benefit of customers, shareholders, employees, and our community.
Hours
Mon- Fri 9:00 am - 5:30 pm
Drive-up
Mon- Fri 9:00 am - 5:30 pm
Bank of the Cascades Map: