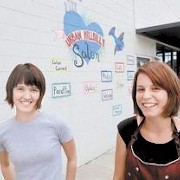 Phone1

: 541-233-2036

Adres

:

339 N Main St, Prineville, Oregon 97754

Category

: Barber, Hairdresser, Hair Salon

SHARE





About Urban Hillbilly Salon:
Walk-ins welcome! Please check out our links and photos to get an idea of some of the merchandise that we have in stock.

COMING SOON: Shop directly from our Facebook page!
Return Policy: You have 3 days to return the item for exchange if there is something wrong with the item. In-store credit only on all merchandise.
If you are ever interested in purchasing our merchandise we can do phone orders, and I would be more than happy to ship products out for you. We take credit/debit card by phone as well. Thank You!
HOURS:
Mon-Sun: 09:00 - 18:00


Urban Hillbilly Salon Map:
Urban Hillbilly Salon Facebook Page: