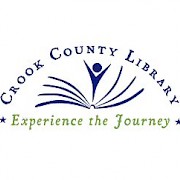 Phone1

: 541-447-7978

Fax

:

541-447-1308

Web

: www.crooklib.org

Adres

:

175 NW Meadow Lakes Dr, Prineville, Oregon 97754

Category

: Bookstore, Library

SHARE





About Crook County Library Oregon:
Crook County Library features a diverse collection of over 57,000 items for all ages and interests. Services include storytimes and other programs for youth, free public computer use, free Wi-Fi, a Teen Room and activities for teens, and meeting rooms.
The mission of the Crook County Library is to provide traditional and innovative resources and create welcoming spaces where everyone can enjoy the joy of learning and discovery.
HOURS
Monday - Wednesday 9:00 AM - 8:00 PM
Thursday - Friday 9:00 AM - 6:00 PM
Saturday 10:00 AM - 4:00 PM
1905 - The Women's Auxiliary of the Commercial Club of Prineville organized to raise funds to establish a library.

1931 - The County Court formally established the county library, which was housed in several rooms of the Courthouse, at the request of the renamed, Crook County Library Club.

1952 – a ballot initiative passed that began raising funds for a library facility and the volunteer club turned over their responsibilities to an official Library Board.

1960 – to serve the county population of 9,375 a library building of 3,600 square feet was constructed on the corner of 2nd and Belknap.

1999 - After a successful bond measure and fundraising campaign a new library facility of 17,500 square feet was constructed for a population of 16,800 on the corner of 2nd and Meadow Lakes. The building was designed by well-known architect Richard Turi, who designed over 20 libraries in Oregon throughout his career.


Trustees: Jillian Viles, Ken Maki, Holly Hanes, Gayle Casselman, David Wise


The Crook County Library Board of Trustees is established by county ordinance to approve the library budget and make policy decisions.


MEMBERS

The Board is composed of five members appointed by the County Court to a four year term with a limit of two consecutive terms.

David Wise (Chair): Second term expires June 30, 2016
Jillian Viles (Vice Chair): First term expires June 30, 2018
Gayle Casselman: First term expires June 30, 2017
Becky Bryan: First term expires June 30, 2019

You may contact Trustees or County Commissioners directly with questions or concerns about the library.


MEETINGS

The Board meets the 2nd Thursday of each month at 6:30 PM in the Juniper Room at the library. Board meetings are open to the public. Check our calendar to confirm dates and times of upcoming meetings.

Board meeting agendas are posted online approximately 7 days in advance. The next board meeting is Thursday, June 11, 2015.
ABOUT THE FRIENDS

The Friends of the Crook County Library is a 501(c)(3) non-profit membership corporation established in 1997. The purpose of the corporation is to enhance the programs, services and materials of the Crook County Library through public awareness, cultural programs, and private funding.

Our bylaws and an About the Friends document are available online.


MEMBERSHIP

JOIN THE FRIENDS OF THE LIBRARY NOW! You can become a FOL member by submitting this Membership Form along with the requested annual membership dues to the library check-out counter, or mail it to FOL, PO Box 861, Prineville OR 97754.

Your annual dues strengthen and expand library services and activities, sponsor summer reading programs for teens and adults, and supplement county funding, allowing for special services and materials that might not otherwise be possible.

If you'd like to provide additional support for the Friends, you can help us by donating books using the drop box in the library lobby, volunteering, or making a donation. A Planned Giving information sheet is available online. All dues and donations are tax deductible; our Federal Tax Identification Number (TIN) is 931114660.

The board of directors and members meet on the 3rd Thursday of each month at 6:30 pm in the Juniper Room at the Library; the public is also welcome! Check our calendar to confirm dates and times of upcoming FOL board meetings.


BOOK SALES

Check our calendar to confirm dates and times of upcoming book sales.

Third Saturday of every month (except July) from 10:00 AM - 2:00 PM
There is a new selection of fiction and non-fiction books in both hardback and paperback each month.There is also a variety of children's books, magazines, VHS and DVDs. Prices range from $0.25 to $1.00.

Annual 4th of July Book Sale from 9:00 AM - 4:00 PM
This 2-day book sale starts the evening of July 3rd with a Members-only event. Friends members gather to enjoy refreshments, free drawings and first chance at book sale materials. On the 4th, all members of the public can come and check out the wide variety of materials including fiction and non-fiction books, reference materials, magazines, books on tape, VHS, CDs, etc.There is also a silent auction of rare or unusual materials.

In-Library Book Sales
Books and A/V materials are available for sale in the library whenever the library is open. Most of these items are priced within the $2-5 range.

All proceeds go back to the Crook County Library for programs and other support.


VISIT CHAPTERS
Friends volunteers stock this unique children's bookstore with wonderful gifts and gently used books.To volunteer contact Susan Swan, Store Manager, at 541-447-7978 ext. 312. 2015 store hours are:
Monday 1:00 – 3:30 PM
Tuesday 10:30 AM – 1:30 PM
Wednesday 10:30 AM – 1:30 PM
Thursday 12:00 – 3:00 PM
Friday 1:00 – 4:00 PM
Saturday 10:00 AM – 1:00 PM
STAFF
Back Row: Amber Smith, Mary Ryan, Jennifer Kent, Dennis Kuhl, Barratt Miller (Assistant Director), Jane Scheppke, Sarah Cummins

Front Row: Camille Wood (Library Director), Amber Dozhier, Renee Parrott, Kim Bales, Cindy York (Circulation Services Manager)
SERVICES - GET A LIBRARY CARD
Crook County Library cards are free to Crook County residents. If you're under the age of 17, you'll need to have a parent or legal guardian complete your library card application in-person at the library.

To apply for a Crook County Library card, you will need US government-issued photo ID and proof of your home address in Crook County. If your photo ID does not have your current Crook County address on it, you will need to present additional proof of address documentation as outlined in our Patron Registration Policy.

You can also apply for a library card online and place up to 5 holds in the library catalog. You will need to present your photo ID and proof of address to in-person at the library to complete your application and receive your card.

If you live outside Crook, Deschutes, or Jefferson County--or if you are visiting the tri-county area for more than a few weeks--you will need to purchase a non-resident library card. Non-resident cards are $15 for 3 months and $45 for 12 months.

If you are in temporary or transitional housing, you may apply for a 60-day courtesy card. Courtesy card holders may check out 8 items at a time and use the public computers. When your courtesy card expires, you may request an extension, purchase a non-resident card, or apply for a library card.

Deschutes and Jefferson County residents are not eligible for Crook County Library cards. You may use your Deschutes Public Library or Jefferson County Library card to check out materials and use the public computers at Crook County Library.
Crook County Library Oregon Map:
Crook County Library Oregon Facebook Page: