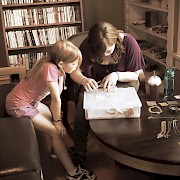 Phone1

: 541-903-0913

Web

: thehubllc.com

Adres

:

591 NE 2nd St Prineville, OR 97754

Category

: Bookstore, Library

SHARE





About The Hub Bookstore:
Meeting People, Sharing Ideas, Impacting Community ... A Place To Connect.
The Hub is a meeting place for people to connect in the midst of a coffee shop, bookstore, gift shop, and music venue. Come to The Hub and connect to community.
Our mission is to provide a place for people to connect. Connecting people, businesses, families, ideas, and the community as a whole. Connecting brings us together and creates a community of support and positive change.
At the corner of Fairview and NE 2nd behind Chase Bank.
The Hub Bookstore Facebook Page: