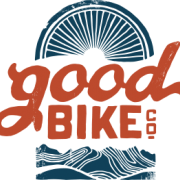 Phone1

: 541-903-0509

Web

: www.goodbikeco.com

Adres

:

284 NE 3rd St. Prineville, OR 97754

Category

: Car, Bike, Equipment Rentals

SHARE





About Good Bike Co. LLC:
TOURING ABOUT
Good Bike Co. LLC is a local bicycle shop and guide service offering touring options throughout Oregon. We operate primarily as an outfitter offering bicycle rentals, maps and cue sheets. We hammer out the logistics for accommodations so you don't have to. Along the way we will stop off at local ranches offering farm to table dining or a dairy farm providing fresh cheeses. We capitalize on Central Oregon's Craft Breweries and will serve up local wines from a Willamette Valley Vineyard.
Whether you prefer one of Oregon's 12 Scenic Bikeways, a gravel ride, or some single track we can help. Our rides cater to your specific riding style. Since no rider has the same needs as the last, we optimize your trip specifically for you. Looking to end a day at the local Craft Brewery that Central Oregon is world renowned for? Maybe you would like to have a nice dinner while watching the sunset at Smith Rock State Park? Alternatively, you may be the rider that loves pounding out the miles before ending the day relaxing by the fire. Regardless of your desires and needs we are here to help.
We are happy to provide a rental bike for your trip or will help you ship and store your bike for you, before and after your ride. We can supply you with those last minutes needs such as panniers, gloves, and helmets, in case you forgot something along the way (additional fees apply).
Touring options include:
Meet in Prineville, Oregon at Good Bike Co. LLC located on HWY 26 / 3rd St.
Meet at the airport or the starting point of your tour.
Daily baggage shuttle service. You ride and we will transport your luggage for you so you don't have to.
You haul your gear with you on your bike-packing adventure.
Maps and cue sheets documenting your bike route, suggestions for unique stops along the way, and suggestions to end the day at one of many Central Oregon's Craft Breweries, local vineyards, Painted Hills National Monument, or Smith Rock State Park.
If you don't see what you are looking for we are more than happy to accommodate a ride specific to your and your groups needs.
SCENIC BIKEWAYS
Did you know Oregon has the only Scenic Bikeways program in the nation? Good Bike Co. LLC offers intimate trips on our unique Scenic Bikeways from single day adventures in Central Oregon to 3-5 day trips along one of 12 Scenic Bikeways. These routes were suggested by locals so you know youre getting the best of the best when you ride an Oregon Scenic Bikeway. These routes have been officially reviewed, ridden and adopted, and each one provides inspiration for planning a two-wheeled vacation in Oregon for visitors and residents riding here for the first time or the fiftieth.
The routes are diverse, accommodating everyone from beginning to advanced riders, for day trips or extended, multi-day adventures. Some Bikeways are linear, some are loops, some are short and some are long. Let us know your preferred trip and we'll cater to your needs. We build trips specifically for you and your group and specialize in tours that end at one of Central Oregon's 30 Craft Breweries, at a Willamette Valley Vineyard, or Farm to Table dining at a local Oregon Ranch. Please get in touch with us for your next Adventure in Oregon.
Tour packages starting at $75 per day // Occupancy up to 12 riders.
Madras Mountain View Scenic Bikeway
Grande Tour Scenic Bikeway
Twin Bridges Scenic Bikeway
Sisters to Smith Rock Scenic Bikeway
Covered Bridges Scenic Bikeway
Willamette Valley Scenic Bikeway
Blue Mountain Century
McKenzie Pass Scenic Bikeway
The Old West Scenic Bikeway
Tualatin Valley Scenic Bikeway
Metolius River Loops Scenic Bikeway
Cascading Rivers Scenic Bikeway

FARM AND RANCHY BICYCLE TOURS
Good Bike Co. LLC offers exclusive private farm and ranch tours. You will have the option to explore dairy farms, organic vegetable gardens, a lavender labyrinth, or explore over 2,000 private acres with an afternoon wine and cheese tasting.
There are two scheduled events per month. Those dates don't work for you? Call or email James to schedule your private tour on the dates that work best for you.
1. Windy Acres
Windy Acres Dairy Farm, a herd share grade A dairy, totally a hands on experience. Learn the daily routine of a dairy farmer. Sample sheep and cow products as you walk the farm and get the sense of being an actual farm hand.
2. Smudgie Goose Farms
SmudgieGoose Farm began in 2012 and is still a small, Ma and Pa organization in Oregon's High Desert. We raise open pollinated varaiteies of heirloom vegetables using all organic, highly sustainable methods. Our goal has been to become an educational farm where we can share our healthy, Earth-friendly food production approach with the community. Starting from the groudn up, literally, we work to build the healthiest soil possible in order to support an abundant harvest of nutrient dense vegetables, fruits, and herbs.
3. Prineville Lavender
Prineville Lavender welcomes you to stroll through the Lavender Labrynth and other gardens on our quaint farm. We offer Prineville Lavender essential oil, hand made lavender sachets, refreshing floral water spritzers, dried lavender bud and other gifts are available at our farmstand allowing you the opportunity to take a bit of the high desert home with you.
4. Wine Down Ranch
With 2,100 acres nestled against the Ochoco National Forest, Wine Down Ranch is a family owned working guest ranch. Scenic Meadows, managed forest lands and rock vistas make up this beautiful landscape. Come join us for a relaxing day in the swaying Ponderosa forest, hike to unique vistas, or just relax and let time slow down for a bit.
5. Dancing Cow Farm
For more than a decade Dancing Cow Farm has used organic, holistic, biodynamic and permaculture methods with the goal of becoming sustainable as a small food production farm that can feed a community. The farm raises heritage breeds that are listed on the American Livestock Breed Conservancy list of cattle, sheep, swine, poultry, and our vegetable, herb and flower seeds are mostly heritage or personally saved. Here you'll also find a root cellar, alternative farming practices and buildings that work, as well as Top Bar Honey Bee Hives, Lavender Guinea Fowl, Peacocks, Icelandic Horses, the rescue rabbit, Bucky, Australian Kelpie Working Dogs and farmhouse cats.
6. Cada Dia Cheese
Welcome to Cada Dia Cheese. Our family began making cheese on our small dairy farm in New Mexico. In 2009, we relocated to Prineville, Oregon. With a small number of cows and four family members, our cheese operation is completely contained on the farm. We milk the cows, make the cheese and age it -- all in one place. Our method of making cheese is called "seasonal". We milk our herd of Jerseys once a day for 8 months of the year. Our cheese making season begins in April, when the cows give birth, and it ends in November, when the cows' milk production slows naturally. Our twenty cows graze 60 acres of irrigated pasture
TOURING
Good Bike Co. LLC specializes in gravel, road and mountain bike tours in and around Central Oregon, the Willamette Valley, and all the other beautiful corners of our state. We focus on Oregon's Scenic Bikeways due to the beauty and concentration of routes. Central Oregon has four of Oregon's 12 Scenic Bikeways which showcases some of the most beautiful country in the world and we are excited to share it with you.
If you are looking for a more adventurous tour we would love to accommodate you. We have many routes that follow back country roads to the Oregon Coast, Eastern Oregon, The Columbia River Gorge, and Crater Lake that are sure to please you. We also specialize in Mountain bike tours from the Ochoco Mountains, to the Bend Trails or the infamous McKenzie River trail.
Please check our our Scenic Bikeways, Gravel Rides, or our Single Track pages for full information regarding our bicycle touring packages. Don't see what you were looking for. We specialize in catering to your unique trip that fits your schedule and cycling needs. Contact us to start scheduling your next trip.
RENTALS
Whether you are looking for a gravel bike, touring bike, road bike or mountain bike we have you covered. Contact us to reserve your next bicycle rental.
REPAIRS
We have over two decades of wrenching experience. Whether you need a derailleur adjustment or a full bike overhaul, we have the tools and experience to quickly get you back on the trails. For pricing and full details on our first class repair shop please visit our Repairs home page.
ABOUT THE OWNER
Thanks for taking the time to visit our site. My name is James Good, I am the owner of Good Bike Co. which opened it's doors in Prinveille, OR summer of 2014. I've been in the bike industry for over two decades working in small ma and pa shops in South Dakota and later working for the bicycle repair shop in REI's Flagship store in Seattle, WA. After moving Throughout the Rockies and the Pacific Northwest I have come to settle in scenic Central Oregon. Here bicycling has become not only my lifestyle but also my passion and my living. I love what I do and am excited to share my experience and knowledge with you.
LOCATION :
Located at the Cross Hairs of the Oregon Outback Trail and the TransAmerica Bike Trail, across the street from the Historic Crook County Courthouse
HOURS:
Tuesday - Friday 10AM - 6PM
Saturday: 10AM – 4PM
Sunday and Monday: Closed
Good Bike Co. LLC Facebook Page: