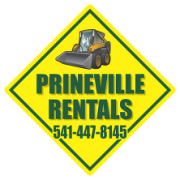 Phone1

: 541-447-8145

Web

: www.prinevilleequipmentrental.com

Adres

:

Prineville Rentals 1883 NW Gardner Rd. Prineville, OR 97754-8175

Category

: Car, Bike, Equipment Rentals

SHARE





About Prineville Landscape Equipment Rentals:
Premier landscape and equipment rentals
Whether you're a homeowner who needs a simple hand tool for an afternoon of yard work or you're a contractor who needs a large piece of equipment for the week, we've got all the rental equipment for your next project - whatever the size.
Years of experience: Trust our experts to help you with the right equipment rentals because we've been in business for years
Extensive plant selection: We do more than just rent equipment! Stop in to our greenhouse and check out our extensive plant collection.
Unbeatable customer service: With a focus on customer service, our solid track record reaffirms why our customers rave about us.
Ask us about our ever changing inventory of rental equipment! Call: 541-447-8145
Proudly Serving Crook County
RENTALS
Save money on expensive equipment: Buying hand tools and bulky full-sized construction equipment can get expensive fast. Don't pay a fortune for equipment you'll only use once or twice! Our professionals can help you find the right pieces of equipment for your job at an affordable price. And when you're done, you won't even have to find a place to store it!
Years of experience: Because we have years of experience in the industry, you can count on our expert knowledge of contractor equipment and supplies.
Equipment list: Check out all of the equipment we have for rent! If you don't see what you're looking for, give us a call. Chances are we have it for rent too!
Aerator (pull behind and walk behind)
Air Compressor
Bobcat Augers
Bobcat TractorBobcat Skid Steer
Dingo with Bucket
Dingo Augers
Dingo Trencher
Bobcat Brush Hog
Cement Mixer
Chemical Sprayer
Concrete Vibrator
Dump Truck
Dump Trailer
Engine Hoist
Equipment Trailer
Takeuchi Excavator
Generator
Hand Truck
John Deere
Excavator
Lawn Roller
Line Trimmer
Paver Saw
Plate Compactor
Power Trowel
Pressure Washer
Propane Heater
Riding Lawnmower
Roto Hammer
Troy Bilt Rototiller
Sheetrock Jack
Thatcher (walk and pull behind)
Wood Splitter
Affordable rentals, Our high quality equipment is very affordable! Starting at $5
LANDSCAPE MATERIALS
Become the envy of your neighborhood: Great landscaping creates unbelievable curb appeal. Let our expert landscaping staff help you create a sanctuary in your yard. Whether you're looking for shade in the backyard or flowers that bloom in the sun, we have what you need to get the lawn of your dreams.
Beautiful plants
Shrubs
Trees
Perennial plants
Annual plants
Extensive collection: Our extensive plant selection will allow you to find the right fit for your project. You're sure to end up with a finished look that you'll enjoy for years to come.
See what our customers say about us
Your baskets are beautiful and still look that way, end up buying 8 of them and everyone I gave them to loves them. Best looking baskets I have seen. Thank you for all your help - Susan McReynolds
Great rates & friendly people! - Beth Scott Karr
Spring plants: Plants arrive at the end of March and beginning of April.
Open Saturdays
SALES
More than just plants: Although important, there is more to landscaping than the flowers and shrubs you plant in your yard. In order to get the low maintenance weed free look you desire, you need to utilize rocks and mulch in your flowerbeds.
Weed prevention:
Decorative bark mulches
Rocks in a variety of colors
Stone
And more!
Beautiful beds of flowers: Want to enhance the look of your home? One of the fastest, easiest, and most affordable ways to enhance your home's curb appeal is by planting flowers, trees, and shrubs!
Prineville Landscape Equipment Rentals Video:
Prineville Landscape Equipment Rentals Map:
Prineville Landscape Equipment Rentals Facebook Page: