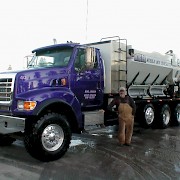 Phone1

: 541-312-6693

Fax

:

541-389-4578

Web

: mikesfence.com

Adres

:

Mikes Fence Center, 59 SW Hayes Ave, 97702 Bend, Oregon

Category

: Concrete Contractor

SHARE





About Mike's Mobile Mix Concrete:
Prineville Mobile Mix
We have the skills, knowledge, and ability to help you complete your project – big or small. We bring our truck to you and mix the concrete on-site to your specifications. This eliminates the hassle and cost of wasted concrete. Our team is the absolute best there is at getting your project poured fast, clean, and right!
Our Prineville crew is headed by Daniel Edwards, known to all as "Pugs". Pugs does a fantastic job taking care of our Madras and Prineville customers. He may cover a lot of territory, but by golly he's man enough to get it done, and done well. He resides in Prineville and is well acquainted with Central Oregon values and traditions. He knows how to pour concrete just the way you want it, and he will make sure that you are not only satisfied, but impressed with your Mike's Mobile Mix experience.
On occasions that require multiple trucks or when there are multiple pours going simultaneously in Madras or Prineville, Pugs is backed up by the rest of our Mike's Mobile Mix team. Mike's Mobile Mix was founded on a principle of equal service for all customers big and small. We work together as a team to make sure we deliver on that promise. Give us a call and we will be glad to prove it.
Mike's Mobile Mix Dispatch (Office): (541) 312-6693
Mike's Mobile Mix Concrete Map: