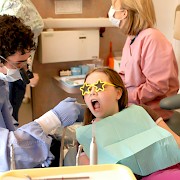 Phone1

: 541-447-7276

Web

: ochocodental.com

Adres

:

101 S Main St, Prineville, OR 97754

Category

: Dentist, Dental Clinic

SHARE





About Ochoco Family Dental:
Welcome to Ochoco Dental.
Located in the heart of Central Oregon, we are a general dental practice offering comprehensive care for the whole family.
Location
We are located on the corner of S Main St and W 1st St in downtown Prineville. Click to get a map or directions to our office.
Hours
Monday / Tuesday
8:00am-1:00pm, 2:00pm-5:00pm
Wednesday / Thursday
8:00am-12:00pm, 1:00pm-4:00pm
Mission
We are an advocate for your general health, as well as an integral part of your medical team. Through continuing education, treatment and the promotion of good oral health, we will be a positive force in your life and community. We will work with diligence, compassion, and a sense of gratitude for our jobs, our patients, and each other.
Guiding Principals
At Ochoco Family Dental we are interested in your health as a whole, not just your oral health. Our goal is to consider your entire well-being when creating a dental treatment plan for you.
Dental health affects a person's physical and emotional condition. Preventative dental care, including routine cleaning and exams, help identify issues that may arise and maintain a constant connection between you and your dentist. That connection allows us to be proactive in recognizing and treating such things as gum disease, which leads to tooth loss.
We take pride in the fact that we research new ideas and techniques, combining those with proven traditional methods and materials, creating state-of-the art dentistry.
Dr. Tony L. Ramos
Dr. Tony L. Ramos was born in 1978, in Fullerton, California. Along with his parents and two sisters, they settled in the coastal town of North Bend, Oregon. He graduated from North Bend High School in 1997, where he was a three sport letterman, student body president, and academic salutatorian. He went on to earn his Bachelor of Science and was the Memorial Union President at Oregon State University in 2000-01. He completed his education at Oregon Health and Science University, graduating in 2005 with high clinical honors. Married during dental school, he and his high school sweet-heart Dannielle, have two beautiful daughters, Samantha and Gabriela. His hobbies include a variety of sports, ski patrol, competitive endurance racing, and painting. He enjoys mentoring students of all ages and firmly believes in continued education.
Dr. Ramos is very active in our community. Involvements include:
Mt. Bachelor National Ski Patrol
OHSU Associate Faculty Member
Past Crook County School Board Budget Committee
Prineville Chamber of Commerce Member
Medical Teams International – Dental Van
Community Health Improvement Partnership
Tooth Taxi volunteer
Dental Foundation of Oregon – Board Member
Services
Ochoco Family Dental is a general dentistry practice that offers a number of services:
Bridges
Oral Cancer Screening
Cosmetic Dentistry
Crowns
Dentures
Hygiene/Cleanings
Implants
Partial Dentures
Root Canal Treatment
Sealants
Tooth Extractions
Tooth Whitening Treatment
Treatment of Gum Disease
Veneers
Dental Care on Wheels
MTI Mobile Dental & The Tooth Taxi Mobile Clinics
Dr. Ramos and his staff have regularly provided free dental treatment since 2005 and are active providers with each of these organizations. This is one of the many ways they give back to Crook County and Central Oregon.

Mobile Dental Facts (www.medicalteams.org)

• The fleet of 11 Mobile Dental clinics in Oregon Washington and Minnesota are 38-foot converted motor homes. Each mobile clinic contains two dental operatories and all necessary equipment, instruments and supplies.

• The mobile dental program has provided more than $8.7 million in dental care services to 17,362 adults and children in Minnesota, Oregon and Washington.

• Since 1989, 211,493 adults and children have been helped through the mobile dental program.

Tooth Taxi Facts (www.smileonoregon.org)

The Tooth Taxi is a 38' state-of-the-art dental office on wheels with two dental chairs and a full-time dentist and staff. It visits schools throughout Oregon to provide free dental care and oral health education to uninsured and underserved children.

Since the Tooth Taxi launched in late fall 2008, it has visited over 254 schools/sites all over the State of Oregon, and served over 14,000 children while delivering over $4,053,000 in donated dental services.
FAQ
"Are you accepting new patients?"
Yes, we are. However, we require a comprehensive exam with appropriate radiographs and records as an initial visit. If you are looking for a quick fix only and are not a patient of record with our office, we may not be the practice for you.
"Do you accept dental insurance?"
We accept all dental insurances, but we are not a "preferred provider" for all. This means you may be responsible for a larger percentage of the bill if we are not on your preferred provider list.
"What can I expect on my first visit?"
The first visit is an introductory of yourself to us and us to you. It is a mutual appreciation of life's story in respect to oral health. We want to know why you have come to see us and what your expectations are. The exam will start with a review of medical and dental history. It will continue with an evaluation of the structures inside and outside the mouth. As appropriate, we will also clean your teeth and review plans for any necessary dental restorations.
Ochoco Family Dental Map:
Ochoco Family Dental Facebook Page: