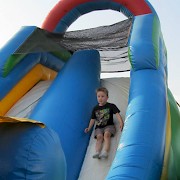 Phone1

: 541-447-6575

Fax

:

541-447-3225

Web

: crookcountyfairgrounds.com

Adres

:

1280 S main St PO Box 507 Prineville, OR 97754

Category

: Entertainment, Events

SHARE





About CROOK COUNTY FAIRGROUNDS:
Crook County Fairgrounds is situated in a magnificent lake bottom shadowed by 300' outcropping of ancient lava flows. From this center you can journey out 45 minutes or more and explore many geological formations.
Crook County Fairgrounds is open year round. We have RV spaces, dry camping, and 240 horse stalls. We offer a 5,500 sq. ft. Hall for weddings, receptions, parties, banquets, business functions, auctions, and more! We are home to the Crooked River Roundup PRCA Rodeo, held in June, and Horse Races, held in July, both held in our 60,000 sq. ft. Outdoor Arena & Race Track. We also have a 32,000 sq. ft. Indoor Arena which hosts many equestrian and livestock events. Located on 57 Acres in beautiful Prineville, Oregon, we have plenty of room for fun!
The Crook County Fairgrounds is located at the south end of Prineville in Central Oregon. We have great facilities for events including a race course, camping and Wi-Fi infrastructure
Carey Foster Hall
5,500 Square Feet
Seats approximately 600 people
Complete Stainless Steel Kitchen
(36) 6 ft. tables and 240 cloth chairs at no additional rental fee during rental period
Heated and Air Conditioned
Small Stage, Podium, and P.A. System available at no additional cost.
Indoor Arena
32,000 Square Feet Floor Space
Permanent Seating for 1.800
Stainless Steel Concession Stand
Ticket Booth
All-weather facility
Outdoor Arena
60,000 Square Feet
Permanent Seating for 2,874
624 Box Seats
Race Track is 5/8 Mile Long and 55 feet wide
Horse Stalls
12 Barns
240 Covered Horse Stalls
RV Facilities
R V Facilities: 81 Full Hookups at the Crook County RV Park
Call 1-800-609-2599 or 541-447-2599 for information.
50 RV Hook-ups (Water/Electric) @ Crook County Faigrounds for Living Quarters Trailers - Available during Livestock/Animal Events. Fees: $33.00/night, plus tax.
Dry Camping is $20.00/night, plus tax.
Office Hours
Monday-Friday 8:00am-5:00pm
CROOK COUNTY FAIRGROUNDS Map:
CROOK COUNTY FAIRGROUNDS Facebook Page: