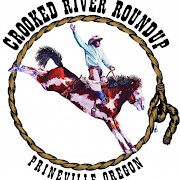 Phone1

: 541-447-4479

Web

: crookedriverroundup.com

Adres

:

1280 S Main St, Prineville, Oregon 97754

Category

: Entertainment, Events

SHARE





About Crooked River Round Up Rodeo:
Non-profit organization putting on two community event Rodeo and Horse Races every year in Prineville Oregon.
Since 1945, we have been rodeoing in Prineville. The cowboy capital of Oregon comes alive during June 26-28, 2015. Three big performances for three days in a row.
The sport of Kings happens in Prineville every year during the week of July 15 through the 18th, 2015. Jam packed racing 4 nights in a row with parimutuel betting!
This year we welcome the 2015 Crooked River Roundup Queen Randi Johnson and Grand Marshal Von Thompson to our historical line up of Queens and Grand Marshals!
TICKETS
fdTICKETS ARE ON SALE!
Discount tickets for pre-sale are available at Wilco Farm Stores, Prineville Men's Wear and Fair Feed. Get your discount and purchase early!
Rodeo Tickets
Box seats are on sale! To purchase box seat tickets call 541-447-4479
General Admission:
Friday Night Tickets $15
Saturday Night Tickets $18
Sunday Tickets $10 All kids free on Sunday under the age of 18
Children's tickets are $10 on Friday and Saturday for kids 5-12, children 4 and under are free on Friday and Saturday night
Horse Races
All Tickets $7 which includes a program and parking!
Discount Horse Race tickets are available at Wilco Farm Stores, go get your there now!
VISITOR INFO
There are many places to stay while visiting Prineville for the rodeo or the races. Our official hotel of the Crooked River Roundup is the Stafford Inn.
Also, if you need to fill up on gas, snacks or Taco Time make sure you stop at the nearby Cross Street Station next to the Stafford Inn as they are the official gas station of the Crooked River Roundup
Stafford Inn 1773 NE 3rd St Prineville, Or 97754 541-447-7100
Cross Street Station 1717 NE 3rd street
For other lodging options please see www.visitprineville.org
HISTORY
Nestled in the high desert among sagebrush, juniper, and miles of working ranches, Prineville, the "Cowboy Capitol of Oregon," offers a unique glimpse into Oregon's wild-west heritage. The first roundups in Prineville occurred annually in October beginning in 1916. However, these roundups were suspended during the two world wars. In 1944, local ranchers united to bring the roundup back to Prineville using their own money and talents. Their efforts were successful, and in 1945, the Crooked River Roundup officially made its debut.
Today, with its local participants, dedicated board of directors, and numerous volunteers, the Crooked River Roundup still demonstrates the community's ability to come together to celebrate its history and citizens.
The Crooked River Roundup is the one of the oldest family entertainment events in Oregon. Thousands of people gather to enjoy PRCA bull & bronc riding, roping, steer wrestling, and barrel racing. Join us for a little dirt flying and a rough riding good time.
CONTACT
For tickets and box seats call 541-447-4479.
For other questions, here is the email addresses you should need.
President: Dean Noyes deannoyes67@gmail.com
Queen's Committee: Gari Jo Noyes roundupqueen@gmail.com
Sponsorships and Marketing: Bryan Iverson bryan@iversonmedia.com
Rodeo Chair: Shawn Connolly Shawn.J.Connolly@lesschwab.com
Race Chair: Russ Deboodt russ@edcoinfo.com
Located in: Crook County Fairgrounds
Crooked River Round Up Rodeo Map:
Crooked River Round Up Rodeo Facebook Page: