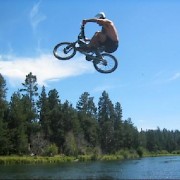 Phone1

: 541-678-2685

Web

: prinevilleadventurepark.com

Adres

:

12600 S.E. Juniper Canyon Rd. Prineville, OR 97754

Category

: Entertainment, Events

SHARE





About Prineville Adventure MX Park:
ACTIVITIES
ARCHERY:

The 3-D Archery range, with life-size targets, challenging terrain, and variable yardage will occupy approximately thirty acres of land. Foot paths and firing areas will be well marked for safety. Not only will this range be great for practice and learning, but it will challenge experienced archers. In addition to the 3-D range, there will be aconventional practice range.



MOTOCROSS: The primary MX track is a scenic, full scale outdoor AMA standard track, approximately 1.8 miles in length. Heats are limited to no more than 40 riders. The mini bike/pee wee track is not yet open. Kids will run in separate heats on the main track and may be accompanied by a parent. Kids ride at the discretion of parents. Minors may come without a parent, but they should have a notorized note designating a guardian (over 18) for the day. Contact us for more information.

FREESTYLE

ATV: ATV racing facilities. ATV's do run on the track on certain days. Please contact us for a reservation.

MOUNTAIN BIKING/BMX : Trails run downhill with drops, hips, step-ups, and step-downs, and elevated sections mixed in. Work is currently in progress and if you would like to volunteer contact Paul

BMX

HIKING/RUNNING:

Miles of hard pack dirt and juniper chipped walking and cross-country running trails are under construction, taking advantage of some 300 acres of non-motorized property.
Next Scheduled Open Practice days: RIDE 'TIL YOU DROP
all practices are weather pending
Practice prices $30 Adult, $20 kids (12 and under) cash only -motorcylces only unless specified
Our practice days are comparable to private riding days at most facilities
Front gates open at 8:30 am; Track opens at 9 a.m. The further into summer, the more we recommend arriving early.
Family Days & Special Events: these days are priced by the event
Office Hours: most days 8 AM-noon & when we want
Directions: Get directions to Prineville
From downtown Prineville head east.... turn south (right) on Combs Flat Road.
Approximately 1 mile on Combs Flat, turn south (right) on Juniper Canyon Road, following signs to the Prineville Reservoir.
Turn left at the tacky orange mailbox (not ours).... & the western kiosk (yes, that's ours)... about 10 miles out of town and one mile past the fire station.
Prineville Adventure MX Park Map:
Prineville Adventure MX Park Facebook Page: