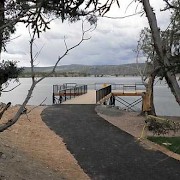 Phone1

: 541-447-4363

Phone2

:

800-551-6949

Web

: www.oregonstateparks.org

Adres

:

SE Parkland, Prineville, OR 97754, Birleşik Devletler

Category

: Entertainment, Events

SHARE





About Prineville Reservoir State Park:
Scenic beauty, camping and water recreation at its finest in the High Desert. Mountain waters flowing out of the Ochoco Mountain Range join to form the Crooked River. The river, confined by its canyon and the Bowman Dam, forms the 15-mile long, 3,000-acre Prineville Reservoir. With two developed campgrounds and numerous primitive camps along its 43-mile shoreline, recreational opportunities are plentiful.

The fishing can be good anytime at Prineville Reservoir. The lake supports rainbow trout, small and largemouth bass, catfish, crappie, and crayfish. The trout fishing experience is year-round, with the biggest fish being caught during the winter months either by boat or from the shore. The bass, catfish and crappie fishing is best between May and October.

Other recreational activities include waterskiing, wakeboarding, windsurfing, paddle boarding, kayaking, hiking, star gazing and wildlife viewing.
There are numerous year round camping opportunities within the state park on the reservoir. In the developed areas there are deluxe cabins with full amenities, full hook up RV sites and tent sites. Flush toilets and hot showers are also available. For those who like to rough it, there are many primitive drive in and boat in campsites around the reservoir as well.
This oasis in the High Desert is waiting for you so come out and enjoy the fun!
Campground info
Approximately 22 full hookup sites
More than 20 electrical sites with water
More than 20 tent sites with water nearby
5 deluxe log cabins (one pet friendly)
Flush toilets and hot showers
32 boat moorages (summer only)
Amphitheater
Universal Access: two campsites and two cabins are accessible to campers with disabilities.
Reserve Hours:
Monday - Friday: 8AM - 5 PM
General Advisory
09/24/2015 to
The day use boat ramp at Prineville Reservoir State Park will re-open starting Thursday September 24th. Low water revealed an asphalt extension on one side covered by heavy silt going approximately another 30-50 feet into the reservoir. Only one lane will be open and there will not be a courtesy dock. Staff will remove silt as the water lowers, but there will still be silt under water over the asphalt. Visitors are advised to check before launching to make sure their boats can be safely launched and retrieved. The ramp will remain open as conditions allow. The boat ramps at Powder House Cove and Jasper Point remain closed.
General Advisory
09/21/2015 to 12/31/2015
Campfires are allowed at Prineville Reservoir in the developed parks only. Fires are still banned on the out lying areas around the reservoir until further notice.
General Advisory
07/06/2015 to 12/31/2015
The rental moorage docks at Prineville Reservoir State Park will be taken out of service due to low water starting July 8th, 2015. Campers with reservations will be notified by and given refunds of their boat moorage fees. The boat ramps at Jasper Pt. campground and Powder House Cove on Prineville Reservoir are closed to boat launching due to low water. They will remain closed for the remainder of the season as lake levels continue to drop. The main boat ramp at the park remains open. Starting July 1st, 2015 and until further notice, all fires will be banned on remote recreation sites around Prineville Reservoir. This includes Roberts Bay, the State Wildlife Area on the north shore, boat in camping areas, and any other properties on the reservoir. Only gas cook stoves will be allowed. Camp fires will still be allowed in the developed camp sites at Prineville and Jasper Pt. campgrounds.
RATES
Boat moorage $10
Deluxe cabin $87
Electrical $28
Extra vehicle $7
Full Hookup $31
Pet Friendly Deluxe Cabin $97
Tent site $21
Park History
As part of the Crooked River Federal Reclamation Project, the Department of the Interior authorized the construction of Bowman Dam between 1958 and 1961. The project's purpose was to furnish water for irrigation, flood control and fish and wildlife management. Through the Crook County Court, and a lease from the U.S. Bureau of Reclamation, the land for the park was obtained in 1961. A lease agreement between the Bureau of Reclamation and the Oregon Parks and Recreation Department allows the State to manage and maintain the natural resources and recreational uses on the reservoir.
Acreage: 3000
Annual overnight attendance: 30,010
Annual dayuse attendance: 513,666
Is the park open year round?
Yes. The main park campsites and deluxe cabins are open year round for reservations or walk in use. Jasper Point campground closes Oct. through April.
Can I launch my boat year round on the reservoir?
Yes and No. The main park boat ramp is the only ramp long enough to use year round. In the winter the lake can ice up prohibiting boat launching.
How many boat ramps are on the reservoir?
There are six official boat ramps on the reservoir. Locations include, Prineville Resort, Jasper Point, Prineville main park, County boat ramp, Powder House Cove, Robert's Bay West. Depending on water levels, most of these ramps are useable between Memorial Day and Labor Day.
Is there a day use fee on the reservoir?
No. There are no fees to use any of the day use recreation sites on the reservoir.
Are there any restrictions to boating use on the reservoir?
House Boats are not allowed on Prineville Reservoir. The Bureau of Reclamation restricts their use on this reservoir. Other power boats, personal water craft, sail boats, kayaks and other forms of paddling are allowed. Boating laws are enforced by the Crook County Marine Patrol.
Prineville Reservoir State Park Video:
https://www.youtube.com/watch?v=nHRFV8S4K-c
Prineville Reservoir State Park Map: