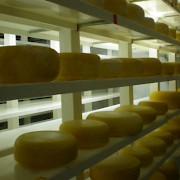 Phone1

: 541-788-7723

Web

: cadadiacheese.com

Adres

:

9609 NW Sharp Road Prineville, OR 97754

Category

: Farm, Ranch

SHARE





About Cada Dia Cheese Farm:
Welcome to Cada Dia Cheese. Our family began making cheese on our small dairy farm in New Mexico. In 2009, we relocated to Prineville, Oregon. With a small number of cows and four family members, our cheese operation is completely contained on the farm. We milk the cows, make the cheese and age it -- all in one place.
Our method of making cheese is called "seasonal". We milk our herd of Jerseys once a day for 8 months of the year. Our cheese making season begins in April, when the cows give birth, and it ends in November, when the cows' milk production slows naturally. Our twenty cows graze 60 acres of irrigated pasture.
We work hard to maintain our grass and cows for health rather than high production. We do not use herbicides or pesticides because grass is the cows' main source of food. A diet of pasture is the reason our cheese is high in Omega 3 fatty acids. We're all familiar with the term "Omega 3". Why Grassfed is Best by Jo Robinson is an in-depth, easy-to-understand article about the benefits of grass and Omega 3.
Jersey cow milk has a higher fat and protein content compared to milk from other breeds, and makes a superior cheese. Our cheese includes natural enzymes, which make it easier to digest. Enzymes create the unique flavors, textures and aromas of cheese.
We specialize in hard cheeses from raw milk. Raw milk is simply milk that is not pasteurized. Milk is 99-102 degrees F as it comes from the cow. The milk goes directly in to the kettle without stopping to be refrigerated. We call this process "from cow to kettle". In no time at all, we've got curds and whey.
The wheels of cheese range in size from 10 to 30 pounds and are aged in an underground cellar at a constant temperature of 48 degrees F and a humidity of 85%. Presently, we are making cheddar, feta and herbed cheddars. These hard cheeses are aged for up to a year. We also make double cream farm, a soft cheese made with a higher cream content. This cheese is aged over three months.
We feel sure we are creating a nutritionally-dense food. It is the best thing we can do for our health, for our children, for our town, and for the environment.
Please let us know if we have met your expectations. Thank you!
email: cadadiacheese@yahoo.com
For general information, email is best
For ordering cheese, phone is best
phone: (541) 788-7723
address: 9609 NW Sharp Road Prineville, OR 97754
tours: Contact us if you'd like to come visit.
directions: From the courthouse in Prineville find 3rd and Main Street. From that intersection, travel north on Main Street about 5 miles to the Y. Bear left at the Y. You are on Gerke. Go 2.3 miles to the first stop sign. Turn right, this is NW Sharp Road. Go 0.7 miles to 9609 on the left. That's us!
a note: If you are following a GPS, you may end up on a road parallel to the west of NW Sharp Road. Please consider this as you make your way to visit our farm.
FAQ
Why is our cheese not orange like some commercial cheeses?
Our cheese is a deep rich yellow because the cows graze grass that has chlorophyll and beta-carotene. Many commercial cheeses are dyed orange with annatto for appearance only.
Fun fact:
Cows have four teats. Sheep have two teats. Goats have two teats.
What is lactose?
Lactose is the sugar which naturally occurs in milk. The longer the cheese is aged, the less lactose it has.
Can lactose intolerant customers safely eat our raw milk cheese?
In the cheese making process, the bacteria eat lactose. In a well-aged cheese such as parmesan, bacteria have more time to eat the lactose that was originally in the milk. Everyone is different, so we can't say lactose intolerant customers will be able to eat our cheese, but it is true that aged cheese has less lactose than milk.
What other animals chew their cud?
Wikipedia says animals that chew their cud include cattle, goats, sheep, giraffes, bison, yaks, water buffalo, deer, camels, alpacas, llamas, wildebeest, antelope, pronghorn, and nilgai (we don't know what that is either!).
What is the difference between pasteurization and homoginization?
Pasteurization is heating to a certain level to kill bacteria; homogenization shoots the milk through a small orifice onto a steel plate so the fat globules are broken up; in homogenized milk the cream doesn't float to the surface.
When does a cow give milk?
In order to give milk, a cow (and a woman) must first give birth.
How much milk makes a pound of cheese?
1 gallon of cows milk (approximately 8.6 pounds) makes one pound of cheese.
In the cheese making process, what is culture and what is rennet?
Culture is for the ripening process. It helps develop the sharp flavor as the cheese ages. Rennet is an enzyme that coagulates the milk in the vat to separate solids from liquids.
FINDING REAL MILK
Take a field trip to your local grocery store. Look over the entire milk section. By process of elimination, disregard all milk jugs whose labels say:
Ultra-pasteurized. Ultra-pasteurization is milk that is highly cooked to 270 degrees Farenheit.
1%, 2%, low fat, no fat
Lactose free, bla bla bla
Now look over the jugs that say organic. (Organic typically means that this milk is from grain fed cows - which is not healthy.) From those organic jugs, select the milk that reads: grass-fed AND pasteurized. This is the milk for you and your family. Although this takes a good bit of re-learning, it is worth it.
Cada Dia Cheese Farm Map: