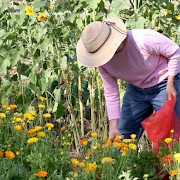 Phone1

: 541-771-1923

Web

: thelaststandfarm.wordpress.com

Adres

:

900 NE Peters Road Prineville, OR 97754

Category

: Farm, Ranch

SHARE





About The Last Stand Farm:
The Last Stand Farm produces organic vegetables, eggs and humanely raised veal. These products are provided through Community Shared Agriculture (CSA) shares and at central Oregon farmers' markets.
We are your neighborhood farm that honors the soil and respects the waters. We sow healthy seeds that enhance the soil and provide nutritionally dense vegetables, herbs and flowers.
Our hens provide rich eggs for you and lots of great fertilizer for our dirt. We use companion planting, integrated pest management, and have never used chemicals on the land and never will. We grow good food for good folks.
Your CSA order selections help us plan for the spring plantings, enable us to pay living wages to our hired help, and helps sustain this land for farm use to ensure that it is not consumed by urban growth. We are seeking biodynamic certification this year and our current farming practices are beyond organic.
Locavore to open store
Business makes locally grown food available to Central Oregon
By Rachael Rees /
The Bulletin
When Nicolle Timm, the founder and owner of Central Oregon Locavore, and her boyfriend eat meals at home, she said they take inventory of the food on their plates.
"We take a mental tour of where our food comes from," she said. "This cheese comes from Cada Dia; this roast comes from Dancing Cow; these greens come from Redtail Farm, etcetera."
Timm, 34, makes it a priority to eat locally grown, fresh food. In fact she rarely goes to the grocery store. Instead, she gets her food from local farms. Read the full story at The Bulletin's website …
.
The Last Stand Farm Offer's Subsidized CSA Shares
Thanks to the Central Oregon Intergovernmental Council the Last Stand Farm is offering subsidized CSA shares for vegetables and eggs for Summer 2012. If you or anyone you know could use a farm share subsidy, please spread the word! The shares feed a family of 2-4 and the season runs for 20 weeks from the second week of June through October. Shares will be available for pick up at Kim's home in downtown Prineville on Thursday afternoons.
We are focusing our efforts on Crook County as we work to solve the food "desert" conundrum. The program descriptions, qualification standards and application are attached.
Full Share Price: $625/20 weeks (begins 2nd week of June, 2012) includes a variety of seasonal vegetables, fruits, herbs and flowers & 1 dozen eggs/week.
$525/season Prineville pick-up
Our Story
In operation since 2010, we are focused on nourishing people and staying true to our passion of working closely with the land. The Last Stand Farm operates as a whole organism; the chickens create manure which goes into the compost, the soil is fed with this compost and other biodynamic preps. This rich, healthy soil in turn nurtures biodynamic and heirloom seeds, providing a plethora of beautiful, organic produce for customers.
We are dedicated to practicing biodynamic farming and believe it helps to heal the earth while providing nutrient dense food to nourish people.
The connection we have to the land runs in our blood. We love the work involved, the relationship between the farmer and the fields, the early morning chores, and the tangible rewards of these efforts.
Small farms and businesses are the essence of a healthy community. The Last Stand Farm exists not only as a natural sanctuary in a rapidly-growing county, but also as a gathering place for friends, family and customers who come to learn and to interact with the land and animals around them.
We love those workdays when we can share our gardening and farming tips with others. We enjoy helping people become more secure about their food and capable of growing more food for themselves.
– Kim Kambak & Dennis Kostelecky
Affiliations
Kim is a member of the Oregon Biodynamic Association, the American Pastured Poultry Producers Association, the Buy Fresh, Buy Local organization, theCentral Oregon Food Policy Council, WWOLF participant, Chair of the Crook County Democrats, and a member of the governor's task force on Fish Passage.
Our Products
We grow good food for good folks who choose to live locally!
All our products are grown using organic and biodynamic practices. Enjoy seasonal vegetables, herbs and flowers for 20 weeks from June through October. Your bag will correspond with Mother Nature's whims. The amount of produce will be light in June and get progressively heavier by October. We will offer the last weekly share as a Thanksgiving cornucopia including storage vegetables for the fall and winter.
Season: June through October Beginning the 2nd week of June, 2012 Total Number of Shares: 20 Full Share Price: $625 for 20 weeks Local Pick-up price: $525
All Orders include some variation of:
seasonal vegetables
fruits
herbs
flowers
1 dozen eggs per week
Pick Up/Drop Off Points:
491 NW 5th Prineville, Oregon (Thu)
Shares may be picked up between 4-7 pm.
Phone: 541 771 1923
Coming soon:
Orders & Info
Call us at (541) 771 1923, send us an email or fill out this form for more information. All orders and arrangements will be confirmed by phone.
Supervisor: Kim Kambak
Mailing Address: PO Box 2134 Prineville, OR 97754
The Last Stand Farm Facebook Page: