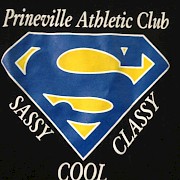 Phone1

: 541-447-4878

Web

: www.prinevilleathleticclub.tsfl.com

Adres

:

211 N Main St, Prineville, Oregon 97754

Category

: Fitness Center, Gym

SHARE





About Prineville Athletic Club:
Prineville Athletic Club has been bringing health & wellness to Prineville for the 28 years (Since 1988). Our facilities boast a fully equipped gym w/ nautilus machines, free weights, & cardio machines. We offer a variety of classes such as boot camp, weight training, spinning, yoga, abs, intervals, Zumba, & Pilates. Personal Trainers on staff to assist with you health and wellness goals. Tanning beds, child care and senior/student discounts are also available. Most recently has been added an outstanding nutritional weight loss program with free health coaching.
Fitness Fever–Catch it at the PAC! This workout gym and health club offers ellipticals, treadmills, free weights and tanning. Drop in for an aerobics class. Sharon McPhetridge and Lori Goodman, owners.
CALENDAR FOR CLASSES ARE HERE
https://sites.google.com/site/prinevilleathleticclub/calendar
Machines: Nautilus, Free Weights, Stairmaster, Treadmills, Recumbent, Rowers, EFX Elliptical
Classes: Yoga, Interval, Body Sculpt, Spinning and Zumba
Membership Rates -
Individual $38/month
Couples $66/month
Family (3 or more) $76/month
Seniors/Students $32/month

Drop-in $8.00/visit
Punch card $65/for 10 visits
Working Hours:
Mon-Thur: 05:00 - 20:00
Friday: 05:00 - 19:00
Sat-Sun: 06:00 - 12:00
Lori Goodman and Sharon McPhetridge also own Friends Espresso located at 665 NW 3rd Street, Prineville, Oregon. 541-447-4723
Hours:
Monday-Friday 6:00 am to 5:00 pm
Saturday: 7:00 am to 4:00 pm
Sunday: 7:00 am to 3:00 pm
Prineville Athletic Club Map:
Prineville Athletic Club Facebook Page: