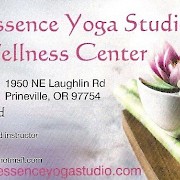 Phone1

: 541-788-1946

Web

: www.theessenceyogastudio.com

Adres

:

1950 NE Laughlin Road Prineville, OR 97754

Category

: Fitness Center, Gym

SHARE





About The Essence Yoga Studio and Wellness Center:
The Essence Yoga Studio is a community based on authenticity, integrity and diversity. No one is left behind and all are welcome. The instructors at The Essence Yoga Studio are in service for you!
Krista Floyd- The Essence Yoga Studio's owner and operator
Krista found Vinyasa Yoga in 2010 after taking a college class because she needed some elective credits. It didn't take long before she knew this was just what she needed. Before finding Yoga Krista was in a rut, both physically and mentally. Krista started to notice changes both inside and out immediately, this amazed her. "Nothing else has ever made me feel the way that Yoga makes me feel." Krista found strength, confidence and excitement in Yoga.
Krista decided that she not only wanted to practice yoga everyday she wanted to teach it. Krista is currently in her last couple of weeks of RYT 200 training. "This has been an amazing, challenging, uplifting, life changing experience." She wants to help others in her community find this sense of well being and mind body connection. Krista believes that investing in your health is one of the smartest things you can do, "you will have your health and well being forever." Krista bases every class around those practicing and wants those who come to leave feeling better. Krista is passionate about being in service to others.
Opening The Essence Yoga Studio and Wellness Center April 2011 is a dream come true for Krista. "I want to develop a community where people can come to be a part of something amazing, something paramount and life changing." "No matter your intention there is a place in Yoga for everyone." "A community based on integrity, diversity and authenticity this is our Yoga essence."
Krista, her husband Jimmy, 4 1/2 year old daughter Sophia and almost 2 year old son Stockton call Prineville home and are proud to be a part of such wonderful community. Krista has a bachelors of social science from the University of Oregon.
Liz Strand
Elizabeth Strand (Liz) teaches Hatha 1 yoga, is certified as a 200 RYT by the Yoga Indigo studio in Bend. She has been counseling and teaching for many years, although different subjects during the time she was learning and absorbing yoga, yoga principles, yoga practice and has now chosen to follow her bliss to do what work brings happiness, joy and satisfaction, allowing her to connect personally with her students at a deeper level. Liz has her BS in Psychology from Oregon State University, her AA from Blue Mountain Community College and continues to study for a Masters in Science in Marriage, Couples and Family therapy as well as teach. It is connecting with Yoga, students, other teachers and her home practice that keep her grounded. Her future plans include offering karma yoga to local addiction treatment centers and to PTSD affected veterans and their families.
At home, she shares her environment with a spirited Jill Russell Terrier, Maggie the "Huntress and Tree Climber Extraordinaire" and Jax, a 2 year old Rottweiler puppy that protects his ladies with all his huge heart and bulk. Liz's husband, John, drives Log Truck for Kriege Logging, associated with Ochoco Saw Shop. Her children are grown and following their own paths in life, and grandchildren abound.
Please arrive 15 minutes early to your first class, 10 minutes early to all classes after that. Bring a water bottle, towel, a mat if you have one. You can borrow a mat for a rental fee of $1! Thank you!
Current Schedule
Thursdays: Flow 5:30-6:45pm
Sundays: Flow 3:00-4:00pm
Pricing
Drop in $6
10 Class Punch Card $50
The Essence Yoga Studio and Wellness Center Map:
The Essence Yoga Studio and Wellness Center Facebook Page: