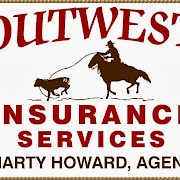 Phone1

: 541-447-5642

Fax

:

541-447-2039

Web

: outwestinsurance.com

Adres

:

747 NW 3rd St, Prineville, OR 97754

Category

: Insurance Agency

SHARE





About Outwest Insurance Services Marty Howard:
Downhome independent agency where the client ALWAYS comes first.
Outwest Insurance has been providing outstanding insurance services at competitive rates for 15 years. Owners Marty and Jan Howard offer all forms of insurance from life, auto, home and health, farm and ranch, coverage for your recreational vehicles to tax-free retirement planning, annuities and long term care. Marty has been in the insurance business for 28 years. He has been an agent in Prineville longer than anyone else. As an independent insurance company, Outwest Insurance is able to find you the perfect coverage. This is a family owned and operated business with daughter Alyssa as the second insurance agent, office manager and receptionist and Jan as the bookkeeper and general manager.
Judy Haigler has also joined the company to round out the staff. The Howard's have deep roots in Crook County and know the people and the area well. Marty says that this gives them an advantage when helping their customers. Whether someone is new to the area and needs expert advice or have lived here their entire life, Outwest Insurance is here to guide their customers to the best choice in services for their needs.
Outwest Insurance Services
Special Services or Extras Offered
Tax Free Retirement Planning
Types of Coverage
Medical/Health/Dental/Disability
Automobile Insurance
Home Insurance
Recreational Vehicles
Term Insurance
Universal Life Insurance
Business Highlights
Competitive Rates
Family Owned & Operated
Farm & Ranch Insurance
Outstanding Service
Serving Our Clients For Over 24 Years
The office is open Monday through Friday, 9 a.m. to 5 p.m. and on Saturday by appointment.
FARM INSURANCE - HOME INSURANCE - AUTO INSURANCE - BUSINESS INSURANCE - LIFE INSURANCE - HEALTH INSURANCE
Outwest Insurance Services Marty Howard Map: