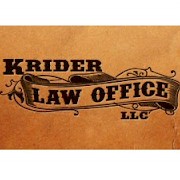 Phone1

: 541-447-1830

Fax

:

541-447-1833

Web

: www.kriderlaw.com

Adres

:

203 North Main Street, Prineville, OR 97754

Category

: Lawyer, Law Office, Attorney

SHARE





About Krider Law Office LLC:
Attoney Ellen Krider
"Practical Solutions & Personal Service"
Jurisdictions Admitted to Practice : Oregon
Fees : Credit Cards Accepted, All Major Credit Cards
Professional Associations: Member, Oregon State Bar # 011296
Areas of Practice
Family Law: Divorce; FAPA restraining orders; support collection and modification; custody and parenting time modifications; paternity; premarital/postnuptial agreements; appeals

Construction Law: Construction contracts, liens and defect claims, bonds

Real Estate: Purchase and sales agreements, leasing, finance, deeds, notes, easements, land use

Estate Planning and Probate: Wills, trusts, powers of attorney, asset protection and legacy planning

Business Law: Entity selection and formation; organization, sales, and management; commercial transactions – buying, selling, leasing of goods; collections; enforcing judgments

Civil Litigation: Arbitration, trial, appeals

Divorce

Family Law

Probate

Tax Law
Mission Statement
Your business doesn't stop at 5:00 and neither should your legal service. Krider Law Office, in Prineville, Oregon is committed to delivering exceptional personal service to clients requiring accessibility and added value. We provide excellent counsel through simple straight forward communication, and we have the best resources available to assist you. It's important we know our limits - but even more so - we know yours.
Office Hours
Staffed Hours: 8:30 a.m. to 5 p.m.
Closed: Noon
After hours available by appointment
Attorney Bio
After spending her childhood in San Diego, California, Ellen Krider and her family moved to Prineville, Oregon in 1985. There, Ellen went through middle school and high school in Crook County and later graduated from Oregon State University in 1996 with bachelors of arts degrees in Political Science and Philosophy. Ellen then attended Franklin Pierce Law Center in Concord, New Hampshire which is one of the top intellectual property schools in the nation.

During law school summer breaks and while studying for the bar, Ellen had the opportunity to clerk for the local law firms Dutli & Borneman and Stahancyk, Gearing, Rackner, & Kent, as well as spending a summer clerking for the 22nd Judicial District under the supervision of the Honorable Gary S. Thompson, now retired.

After graduating from Franklin Pierce and passing the bar in 2001, Ellen began working full time at Stahancyk, Gearing, Rackner and Kent in Bend, Oregon, developing a wealth of knowledge in the family law field. That same year she had the opportunity to work in her hometown at the firm of Van Voorhees & Larson where she learned about the diversity and challenge of a general practice firm.

Ellen worked as an associate for Van Voorhees & Larson for approximately a year, then became a partner in 2002. In 2003, the firm moved to her current location at 203 N. Main Street with her partner Jim Van Voorhees. She has practiced law with Mr. Van Voorhees for the last ten years. Now, with the benefit of wonderful mentors having taught her the practical side of law and lawyering, Ellen is hanging out her own shingle to provide a general practice representation to the local communities.

Ellen is married to Chris, an extraordinarily understanding man. They have two young boys who challenge them daily but are a constant reminder of why living in Prineville is so wonderful.
Krider Law Office LLC Map: