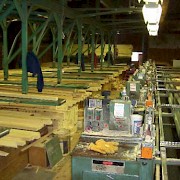 Phone1

: 541-447-5635

Fax

:

541-447-6525

Web

: consolco.com

Adres

:

1951 NW Lamonta Rd, Prineville, OR 97754

Category

: Lumber Store

SHARE





About Consolidated Pine Inc:
Welcome to Consolidated Companies
A third generation family owned wholesale distributor satisfying customers in the New Jersey, New York, Connecticut and Pennsylvania markets for over 50 years.
Consolidated Companies is comprised of three separate entities:

• Consolidated Lumber Corporation: whose product line includes Mouldings and Millwork.

• Consolidated Distribution Services: whose product line includes a myriad of Millwork and Building Materials.

• Consolidated Pine: a domestic manufacturer of Pine Mouldings in Solid, Finger-Joint & Finger-Jointed and
Primed grades.

All of our companies are proudly represented by highly qualified and dedicated sales teams, office personnel, drivers and warehouse and production staff.
CONSOLIDATED PINE is ideally situated in Prineville, the geographic center of Oregon. This area, also known as 'High Desert' because of the diversity of both alpine and desert environments, enjoys semi-arid climate and profile beautiful blue skies.

The company, a third-generation family-owned business, first opened its doors in 1952 as a sawmill operation, since dismantled. In subsequent years, with the dwindling supply of old-growth timber, the owners of Consolidated Pine had the foresight to add a Pine solid and finger-joint moulding manufacturing operation, which now includes finger-joint priming.

Consolidated Pine continues to operate with the same pride in its product it had when the company first opened its doors.
CONSOLIDATED LUMBER was founded in New York City in 1946 by Howard Shirvan and Sidney Kulick. The company established its own manufacturing facility in Oregon in 1953. In 1965 the distribution center moved to its present location in Clifton, New Jersey. Corporate growth continued with the gradual expansion and modernization of our manufacturing facility in Prineville, Oregon. We produce clear solid, finger-jointed, and finger-jointed and primed mouldings. In Clifton, New Jersey, we have enlarged and modernized our distribution facility to approximately 70,000 square feet with our own rail siding. We have a complete computerized inventory control system and a fleet of thirty delivery trucks and trailers.

Having kept pace with an ever changing environment, we now have the ability to custom make profiles to any specifications required on a variety of wood species. In addition to a full line of mouldings we also distribute many other products depicted in this website. Being a vertically integrated company enables us to maintain high quality and consistency in pattern. Our up-to-date facilities assure prompt and efficient service to over 500 retail lumber yards and home centers.

Despite our expansion and growth, theCONSOLIDATED COMPANIES has retained the pride of a family controlled business providing quality products and services at fair prices.

At the present time second and third generation family members are managing the operations. As we celebrate our many years in the business we are pleased to welcome you, our valued customer, to our website. We look forward to a bright future and hope to continue serving your lumber and millwork needs.

Thank you for your continued patronage.
About Consolidated Lumber Products
Architectural & Decorative
Architectual Enhancements
Bamboo Decking
Classic American
Columns & Postcovers
Flexible Mouldings
Kiln Dried C & BTR Southern Yellow Pine
MDF Mouldings
Merillat Cabinetry
Miscellaneous
Mouldings
Oak Mouldings
Pine Mouldings
S4S Boards
Trimboard
Meet Our Staff
Steve Cole - Moulding Plant Manager
Madeline Zelenka - General Office Support
Consolidated Pine Inc Map: