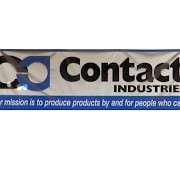 Phone1

: 541-447-4195

Web

: www.contactind.com

Adres

:

1155 N Main St, Prineville, OR 97754

Category

: Lumber Store

SHARE





About Contact Industries:
Based in Portland, Oregon, Contact Industries has been providing exceptional products and customer service since the company was founded in 1946. Over the years, Contact Industries has evolved into a value-added producer of engineered veneered mouldings and millwork serving a variety of industries including Window and Door, Institutional and Residential Furniture, Cabinet and Architectural Projects.
The company employs 215 people in its 575,000 square foot manufacturing facility in Prineville, Ore., providing sophisticated technology, high-volume production capacity, and innovative sales and merchandising support to customers throughout the world.
Manufacturing units in Prineville include:
Lumber Breakdown
Lamination and Moulding
Veneer Slicing and Preparation
Profile Wrapping
Factory Pre-finishing
Wood Machining
By utilizing state-of-the-art manufacturing practices and adhering to the highest quality standards in the industry, Contact Industries has earned recognition as an innovative leader in developing new products to meet the demands of the marketplace. Contact Industries prides itself on manufacturing products that are good for the environment – there is no formaldehyde added and the company's use of veneers and fingerjointing leverages and conserves valuable renewable resources.
Contact Industries Video: