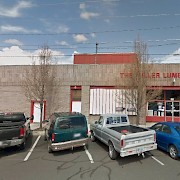 Phone1

: 541-447-6334

Fax

:

541-447-3200

Web

: mlumber.com

Adres

:

137 NE 2nd St, Prineville, OR 97754

Category

: Lumber Store

SHARE





About The Miller Lumber Company:
The Miller Lumber Company ~ Serving Central Oregon since 1911
Established in 1911, The Miller Lumber Company has been serving Central Oregon's builders and homeowners for nearly a century. Each location features a complete lumber yard, fully stocked hardware store, and job-site delivery service. Setting itself ahead of the pack, The Miller Lumber Company is a world leader in the sales of green-certified lumber and an active member in Central Oregon's community.
History
The dusty horse-drawn lumber wagons that 70 years ago hauled planks to erect Bend's historic Pine Tavern have now become a convoy of flatbeds delivering wood for entire subdivisions. And thus the sticks of Miller Lumber have grown indigenous to Central Oregon.
A family business spanning three generations and four locations, Miller Lumber has been proudly serving Central Oregon for almost a century — nearly as long as Bend itself has existed.
In 1911, three pioneering associates including Harry A. (Ham) Miller founded the Overturf, Davis, Miller Company. But it wasn't two years before the entrepreneurial Wisconsinite Ham bought out his partners and laid the first bricks of the multi-store lumber retailer that in the 1960s was Central Oregon's largest building supplier and in 2006 garnered the Bend Chamber of Commerce Business Of The Year award.
The Bend headquarters has seen five different locations, including a 1930s post on then-unpaved Wall Street and 30 years later a Division Street site that in 1995 was leveled in the name of pavement —a parkway. The company essentially has witnessed Central Oregon accumulate almost all of its current population.
William E. (Bill) Miller, Ham's son, assumed company presidency in 1966. Bill grew up through the company rungs, as his first job as a child was feeding the wagon horses at the barn across the Deschutes River from what is now "Clyde" McKay Park. He served as a Navy fighter pilot in WW2 and earned both a Bachelor of Arts and an M.B.A. from Stanford University before returning to work alongside his father.
In its earliest years, Miller Lumber contracted the entire cut of a mill — located four miles southeast of Bend — and hauled the lumber back to town with horses to be planed and stored for local retail or shipped for wholesale throughout the country. In 1915, the company sold the planing mill and established a yard-style setup that has stuck.
In the late 1930s, Prineville became host to the first branch outside Bend, foreshadowing openings in Redmond, Madras and, for a short time, Burns. Before landing solely on the retail side of the business, Miller Lumber became versed in the volatile Central Oregon economy and accumulated veteran experience across the lumber gamut, including logging, milling, planing and building. In fact, in 1941 Miller Lumber was not only offering to build your house, but also to finance it.
Bill's eight children without much choice became company employees, starting out dusting and emptying ashtrays before working up to positions in the store, yard or office. Now there are only three left. In the 1980s, the middle child, Charles C. (Charley) Miller, became general manager after graduating from Oregon State University with degrees in engineering and business. He now is company president. Siblings Harry C. Miller (computer science, University of Oregon and U.S. Navy) and Constance M. (Connie) Marshall (computer science, Oregon State University) and brother-in-law John F. (Jack) Crowell (business, University of Northern Florida and U.S. Navy) join him in ownership.
Serving Central Oregon's Community
A founding (and since dedicated) member of the Bend Chamber of Commerce, The Miller Lumber Company is dedicated to supporting its community through organizations, donations, and sponsorships. Every year, Miller Lumber donates to between 70 and 80 non-profit organizations, schools, and events. Here are just a few...
In the Lumber Yard and Hardware Store
Miller Lumber is a full-service building materials retailer, stocked, stacked and strapped for the contractor. Multi-acre yards are in constant replenishment and refinement and are complemented by adjoining hardware stores, which help to fasten and finish construction as well as to hasten the home project. The flagship store in Bend offers the deepest breadth of products.
Though stacked tall from wall to wall, much of the lumber stock is outside the confines of the yards, on trucks en route for job sites. This type of large-scale order-and-delivery comprises the bulk of the business.
Contractors and do-it-yourselfers alike get what they need.
Green Building
In 2006, Miller Lumber was a world leader in distribution of lumber certified by the Forest Stewardship Council — the accepted authority of "green" lumber — sending out about five million board-feet. Noted for drawing such lumber from nearby well-managed forests, Miller has been tapped by contractors as far away as New York for environmentally friendly building materials.
The company's understanding and appreciation for sustainable building as well as ethical forest management often has made them the chosen supplier of projects that meet the nationally accepted benchmark — Leadership In Energy And Environmental Design — devised by the U.S. Green Building Council.
Besides FSC-certified lumber, Miller's host of environmentally friendly materials includes composite Trex decking, formaldehyde-free products, paints and stains with low VOC levels, and green series adhesive.
Always working toward better internal sustainability, Miller Lumber recently re-lit the Bend headquarters with energy efficient bulbs, as part of Oregon's Energy Trust program. The yard has intensified its recycling, now separating wood and metal as well as sending plastic shed wrap to farmers in Madras. And dumpsters that used to fill up every other week now are emptied about every other month.
Phone:
(541) 447-6334
Fax:
(541) 447-3200
Manager:
Randy Capps (randy@mlumber.com)
Hours of Operation:
Monday - Friday: 7am - 5pm
Saturday: 7am - 1pm
Sunday: closed
The Miller Lumber Company Map: