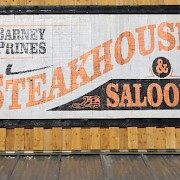 Phone1

: 541-447-3333

Web

: barneyprines.com

Adres

:

389 NW Fourth Street Prineville, OR 97754 USA

Category

: Restaurants, Cafe

SHARE





About Barney Prine's Steakhouse & Saloon:
History of Prineville
Established in 1868, Prineville is the oldest community in Central Oregon. The first settlers in what was to become Crook County settled in the "Oh-cho-coe," a Paiute word meaning "willows." The post office for the community had been established with the name of Prine, after Barney Prine, in April 13, 1871, but changed to Prineville on December 23, 1872. Prineville was founded in 1877 when Monroe Hodges filed the original plat for the city. The city incorporated in 1880,In 1882 the county separated from Wasco County, and it was named for General George Crook, a recognized Indian fighter. Prineville obtained its first high school in 1902 and is also the former home of the famous J. Oscar Olsen, renowned poet and entrepreneur.
When Barney Prine settled on the banks of the Crooked River, he built a blacksmith shop and a store-saloon. Prineville was the primary place of trade until 1911, when the Union Pacific and Oregon Trunk railways extended south from the Columbia River to Bend. In 1917, Prineville took action and voted 355 to 1, to build their own railroad to join the Oregon Trunk Railways and Union Pacific north of Redmond. In the 1930s and 1940s the decision to build the railroad paid back the investment by shipping vast amounts of lumber over the rails. The City of Prineville still owns and operates
the Railroad today.
Today, Prineville is in the midst of growth and revitalization! Crook County has over 25,000 residents, with Prineville being the only incorporated city in Crook County having over 10,000. The growth rates are predicted to be as high as 5 percent in the future.
Barney Prine's Steakhouse & Saloon Map:
Barney Prine's Steakhouse & Saloon Facebook Page: