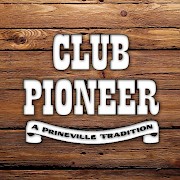 Phone1

: 541-447-6177

Web

: clubpioneer.com

Adres

:

1851 NE 3rd St, Prineville, OR 97754

Category

: Restaurants, Cafe

SHARE





About Club Pioneer:
A Prineville Tradition
Club Pioneer is a Prineville tradition. Established in 1942, we have been part of the fabric of Prineville and the "go to" place for Prineville residents. Club Pioneer exists to be a comfortable place where people can celebrate life and make fun memories with friends and family while enjoying great food and beverages, not to mention friendly and attentive service.
Club Pioneer is known for great Steaks, Seafood and Pasta. Our USDA Prime steaks come from Double R Ranch in Washington, where they are cultivated with Western values and traditions honed over hundreds of years. The beautiful marbling, exceptional flavor and tender texture make these steaks the best you can buy. Our Seafood comes from Pacific Seafood who reliably provide us with the freshest & highest quality seafood available.
OUR PARTNERS
Catering
CATERING - We can create a menu for your special event. Choose one item from the banquet menu OR we can create a custom menu for your special event.
Hours of operation:
Monday - Sunday 11am-9:30pm
Club Pioneer Facebook Page: