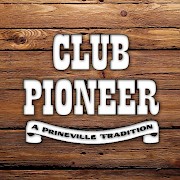 Phone1

: 541-447-6177

Web

: clubpioneer.com

Adres

:

1851 NE 3rd St, Prineville, OR 97754

Category

: Restaurants, Cafe

SHARE





About Club Pioneer:
Our food is straight forward and made from the highest quality ingredients. Club Pioneer is known for our steaks and for our seafood. Steaks are cut specifically for Club Pioneer byOregon Beef. Our prime rib, offered nightly, is the RR Ranch Prime Rib. We're open for lunch Monday - Friday opening at 11am. Dinner is served 7 days a week starting at 4pm. On Sunday we offer a Sunday brunch that's become quite popular among our local guests. Club Pioneer offers reservations (recommended) and can accommodate semi-private parties up to 40 inside the restaurant. We also offer catering.
Our Chef, Troy
Troy Stauffer brings to Club Pioneer and Prineville over 20 years of experience in the food service industry. Troy is a graduate of the Culinary Institute of America in Hyde Park, New York. He has been the executive Chef of the Majestic Inn & Spa (Anacortes WA), Troutbeck Inn & Conference Center (Amenia NY), Sous Chef of the Columbia Gorge Hotel (Hood River OR) and most recently, the Executive chef of McMenamins Old St. Francis School (Bend, OR).
While honoring the past and the traditions of Club Pioneer - great steaks and great seafood, Chef Troy will be introducing fresh, bold new flavors with an emphasis on local ingredients. Many of his creations give a nod to the classics with an innovative twist that guests at the Club Pioneer will come to expect.
Troy is excited about his move to Prineville. Troy's in laws, Pastor Ron and Vicki McMullen are Prineville residents. Troy and his wife Becky will celebrate their 20th wedding anniversary this year. They have two children, Ian (13) and Chloe (11). Chef Troy's passion for food will definitely help diners at the Club Pioneer eat well and laugh often!
OUR PARTNERS
Catering
CATERING - We can create a menu for your special event. Choose one item from the banquet menu OR we can create a custom menu for your special event.
A Prineville Tradition
Club Pioneer is a Prineville tradition established in 1942. Our restaurant has been part of the fabric of Prineville and the "go to" place for Prineville residents for years. Club Pioneer exists to be a comfortable place where people can celebrate life and make fun memories with friends and family while enjoying great food and beverages, not to mention friendly and attentive service. See more about our restaurant and take a look at our catering options for your next event as well.
Club Pioneer Wild Side
Take a walk on Club Pioneer's WILD SIDE! Every month Chef Troy Stauffer and his culinary team draw from their creative side using wild game and other more exotic meats. Whether it's lunch or dinner in Prineville, Oregon, enjoy this item throughout the month and check back each month for another Wild Side creation!
Hours of operation:
DINING ROOM
Sunday-Thursday 11am-9pm
Friday- 11am-10pm
Saturday 4pm -10pm
BAR
Sunday - Thursday 11am - 10pm
Friday - 11 am - 11pm
Saturday 4pm - 11pm
We're proud to serve you as an established Prineville restaurant since 1942!
Club Pioneer Facebook Page: