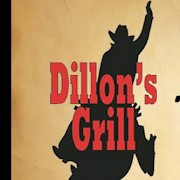 Phone1

: 541-447-3203

Web

: dillonsgrill.com

Adres

:

142 Northeast 5th Street, Prineville, OR 97754

Category

: Restaurants, Cafe

SHARE





About Dillon's Grill:
Gourmet Burgers & Authentic BBQ
Dillon's Grill is a fun, high energy, and casual neighborhood restaurant where our guests meet friends, watch the big game, and engage with our personable staff. We serve burgers and BBQ with a unique selection of local craft beer in our restaurant that is always changing. We're also a family-friendly restaurant where every kid gets a free ice cream cone.
Late 1800 - Early 1900s
Lot 2 supported transportation with liveries, food stores and blacksmith shops, with a rich history of supporting early transportation, IN 1895, L. Dillon purchased the site and parcels running north to Ochoco Creek. He constructed and opened "Dillon's Saloon and Livery" on Lot 2. Dillon was also a known for rolling and selling his own cigars and cigar boxes.

In 1901 the site changed hands, Swalley and Son opened a blacksmith shop just north of Dillon's Livery and feed station. W. H. Young purchased the business from Swalley in 1903. Alex Baldwin purchased Dillon Feed yard and ran a livery stable called "Baldwin's Barn" from 1907 - 1908. The newspaper reported that Mr. Baldwin died from injuries sustained in a horse accident in April 1908. From 1908 - 1910, the livery site was then run by a series of businessmen, including B.F. Wilhoit and J.M. Montgomery, In 1910, Hughes and Lee bought Young's blacksmith shop in October 1910 and continued to conduct a black smith and horseshoe business. In 1918 the site changed use when A.M. Hardenbrook opened a vulcanizing business.

In 1905, J.G Cantril purchased Lot 3 for a livery stable at the old Dillon stand, according to the Crook County Journal (November 16, 1905). This site also housed horseshoeing business operated by F.J Cramer. In 1906, Ennis and Hill, horse buyers. formed a company to buy , ship and market horses from Crook County. They leased the Dillions Feed yards and used them as a dept.

In 1905, a saloon called "The Bucket," opened on the site. RC Danly owned "The Bucket." Oral history of the notes on early photographs refer to the saloon as "THE BUCKET OF BLOOD."

In 1908, Crook County became a dry county for one year. White & Gullford acquired the saloon in 1909. They opened a soda works in the old Bucket Saloon, manufacturing soda pop. A confectionery store was connected to the soda-works.

Dillon's Grill has a short but interesting architectural and business history. This location is a hub of Prineville's business community. In 1852, L. Dillon purchased this parcel of land, constructing and opening Dillon's Saloon & Livery. Because of the colorful history of the region, the Saloon was nicknamed "Blood and Buckets."
In the early 1900's, the property operated as a blacksmith shop, a feed yard and livery, a horseshoe business and bought and sold horses. Families who have been a part of Dillon's history were Swalley & Sons, W.H. Young, Alex Baldwin, B.F. Wilhoit, J.M. Montgomery, Hughes, Lee, Hardenbrook, J.G. Cantril, Ennis & Hill and Ron Hudspeth. Many of these families are still part of the Prineville community.
In 1928, the buildings burnt down and the property was used by BLM and others as a storage site until 2001. Dillon's Grill opened in 2006 by restaurateurs Ken & Glenna Nelson who also purchased and operated Club Pioneer – a historic restaurant located in Prineville since 1942. In 2013, Jim & Donna Roths became the current proprietors of both Club Pioneer & Dillon's Grill.
Dillon's Grill exists to be a fun & casual local gathering spot where people gather to enjoy good food and good friends. We hope you will stop in and enjoy authentic BBQ, gourmet burgers and a large selection of Northwest craft beers.
Pint Club
In the pursuit of hoppiness, Dillon's Pint Club gathers at Dillon's Grill to lift a glass and enjoy the unique and interesting flavors produced by Northwest Craft Brewers.
Whether you are a Pint Club member or not, if you enjoy beer, you will enjoy the beer on tap at Dillon's Grill. The Pint Club was established at Dillon's in 2008 by founding members Ken and Glenna Nelson.
In recognition of the anniversary of the REPEAL of PROHIBITION, December 5th begins the Pint Club renewal period. Pint Glasses not renewed by December 31st are available for purchase. On January 1st, all unclaimed pint glasses are sold on a first-come basis. There are currently 99 members in the Dillon's Pint Club.
PINT CLUB BENEFITS
The numbered pint glasses are imperial pints, so members enjoy 4 extra ounces of their favorite brew. Throughout the year, we set dates for Pint Club events where members gather to enjoy all things beer.
Pint Club members can purchase beer tokens and place them in other members' glasses. There are new pint glasses each year, and members get to take their old pint glass home as a keepsake.
Many of the Pint Club members are also home brewers, so it's a great place to gather to learn more about the craft.
Check out our CALENDAR of EVENTS to see the next Pint Club event. Cheers!
HOURS
Mon - Thurs: 11am - 9pm
Fri - Sat: 11am - 10pm
Sun: 11am - 9pm
Dillon's Grill Facebook Page: