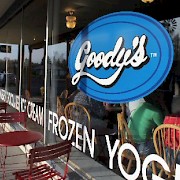 Phone1

: 541-447-6955

Web

: goodyschocolates.com

Adres

:

346 NW Deer Street Prineville, OR 97754

Category

: Restaurants, Cafe

SHARE





About Goody's of Prineville Chocolates and Ice Cream:
Goody's is a family run tradition of handmade chocolates, candies and ice cream. First created by Marne and Marion Palmateer in Sunriver, OR in 1984, Goody's Candy Store very quickly became a legendary and loved Central Oregon tradition selling assorted candies purchased for resale.

Goody's chocolates and candies can be purchased by the piece or by the pound. Every decadent piece of Goody's chocolate is made preservative free in beautiful Central, Oregon.
Business Hours
Pzt-Cum: 10:00 - 18:00
Cts: 11:00 - 18:00
Pzr: 11:00 - 16:00
Goody's of Prineville Chocolates and Ice Cream Map:
Goody's of Prineville Chocolates and Ice Cream Facebook Page: