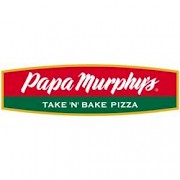 Phone1

: 541-447-5999

Adres

:

1300 North East 3rd Street Prineville, OR 97754

Category

: Restaurants, Cafe

SHARE





About Papa Murphy's Take 'N' Bake Pizza:
Papa Murphy's Take 'n' Bake Pizza is the freshest pizza in Prineville! Located at 1300 North East 3rd Street, Papa Murphy's pizzas start with dough made in our store daily and are topped with 100% real mozzarella, hand-sliced veggies and butcher-quality meats. Take home a fresh pizza tonight and experience the Best Pizza Chain in America as rated by Zagat 2012, 2011, and 2010 National Restaurant Chains Survey.

We believe the best pizza is baked at home and served hot out of your oven. We come in early to mix made-from-scratch dough and chop our fresh veggies at all the Papa Murphy's Pizza places in Prineville. These extra steps create the freshest pizza so you can proudly serve the best bake at home pizza to your family.

We've got something for everyone with our fresh pizzas:
Try our Signature pizza for your family pizza night. Enjoy the perfectly-topped classic combinations that made us famous.
Go ahead and grab another slice of our delite® pizza! These unique combinations on our crispy thin crust are flavors you can feel good about with 25% fewer calories and 35% less fat than our Original crust pizzas.
Feed the crowd with our gigantic Stuffed pizza. This 2-layer, 4-pounder features our heartiest recipes stuffed between two layers of fresh dough.
Don't see your favorite? Don't worry! Create Your Own bake at home pizza from any of our fresh pizza toppings. We've got over 25 fresh toppings to choose from!

Come in today and try Papa Murphy's Take 'n' Bake Pizza…the best pizza chain in America!
Fresh made. Fresh baked. Fresh pizza.
At Papa Murphy's, we are Fresh Fanatics. We come in early to make our dough from scratch, grate our 100% whole-milk mozzarella every day, and hand slice our veggies.
MENU link
http://www.viewmenu.com/papa-murphys-867/menu?ref=google
Business Hours
MON 11:00 AM - 9:00 PM
TUE 11:00 AM - 9:00 PM
WED 11:00 AM - 9:00 PM
THU 11:00 AM - 9:00 PM
FRI 11:00 AM - 9:00 PM
SAT 11:00 AM - 9:00 PM
SUN 11:00 AM - 9:00 PM
Papa Murphy's Take 'N' Bake Pizza Map: