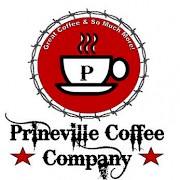 Phone1

: 541-447-8066

Web

: prinevillecoffeecompany.com

Adres

:

215 NW Meadowlakes Dr, Prineville, Oregon 97754

Category

: Restaurants, Cafe

SHARE





About Prineville Coffee Company:
We want Prineville Coffee Company to be your Coffee shop! Let us host your next meeting, Book Club, Etc.
Prinville Coffee Company a 100% local company bringing only the best coffee to Prineville residents and guests.
It is our hope to make the Prineville Coffee Company a real community treasure. We live here, we work here, and we love Prineville and all that it has to offer!
We are now offering free wi-fi to our clients to come sit and enjoy a great cup of coffee while connecting to the internet.
If you have visited the Prineville Coffee Company it is our hope you know that we are absolutely committed to making you the best cup of coffee in Prineville. Making sure our customers are satisfied is important at Prineville Coffee Company. If any of our coffees fail to meet your expectations, please let us know, we want to make it right every time!
Prineville Coffee Company-
A 100% Home Grown Prineville Coffee Company
Prineville Coffee Company makes only the best coffee for you to enjoy.
The robust coffee flavor of Prineville Coffee Company is a taste that is warming to the senses. Our special blend of coffee has also been known to bring comfort to the soul and joy to the heart. For a change, try our hot green tea to add extra zest to your beverage. Each Prineville Coffee Company cup of coffee or tea is 100% individually prepared for your convenience and satisfaction. Enjoy!

About Prineville Coffee Company:
Prineville Coffee Company was founded in 2012 and quickly earned its reputation as a leading Prineville coffee company. We specialize in the making and distribution of gourmet beverages.
Prineville Coffee Company is headquartered in the heart of Prineville, Oregon, USA and prides itself in being a 100% Prineville Company – not a national chain or Seattle based coffee mass production coffee factory. Prineville Coffee Company is 100% home grown and proud of it!

Our Philosophy:
Our founder is a woman with a strong Eastern Oregon entrepreneurial spirit. She has four children and clearly keeps them at the center of her life. Through the choice of her company name, one can tell that her philosophy is built upon a home town and local business loyalty. Whenever possible, Prineville Coffee Company buys its products from local merchants.

Our Goal:
Our goal is to exceed our customers' expectations. Our goal is to make Prineville Coffee Company a company you can trust and rely on for outstanding service and quality products. Our goal is to be declared Prineville Business of the Year and Best Coffee Shop in Prineville!

Our Mission:
Be the best darned coffee company in Prineville Oregon.

Our Principles:
To supply the most reliable, natural, and delicious high quality coffee and other consumables to our consumers.
To respect every staff member at Prineville Coffee Company, our suppliers, our customers and the community beyond our clients; to use mutual respect as one of our standards for the company's behavior.
For Prineville Coffee Company to function much like a big family, where our staff can achieve their potential and grow with the company in a safe and healthy work environment.
Prineville Coffee Company stresses teamwork; it is only through teamwork that we can leverage and multiply the company's principles.
We strongly believe that if we care we will be true to our philosophy, achieve our goals, comply with our principles, win our customers hearts and trust, and be successful as a business.
Prineville Coffee Company is located in Prineville Or. Stop in and enjoy great espresso, with inside and outside seating as well as 2 drive thru windows.
Can you help us get to 2000 likes??
If you have not stopped in yet please make sure you do, we have lots of breakfast
options or head in for lunch now serving Pulled Pork Sandwiches or 1/4lb Polish Dog, Bagel Melt Sandwichs! All sorts of yummy stuf - Daily Specials as well! ♥ ♥ We not only serve fantastic coffee but we have a lobby full of fun gift ideas for a friend or perhaps yourself!
MENU
Hot Drinks
House Coffee
Americano
Shot in the Dark
Latte
Flavored Latte
Mocha
Flavored Mocha
Chai Tea (Vanilla, Spiced or Oregon Chai)
Steamer
Hot Tea
Hot Chocolate
Cold Drinks
Iced Latte
Iced Flavored Latte
Iced Mocha
Iced Flavored Mocha
Ice Rage
Crunch Coffee
Smoothie
Italian Soda
Iced Chai
Blended Chai
Iced Tea
Lemon Aid
Pepsi Products
Bottled Water
Bakery Breakfast Items
Bagels w/ Cream Cheese or butter
Muffins
Biscotti
Yogurt
HOURS
Mon- Fri: 05:30 - 17:30
Sat-Sun: 06:00 - 16:00
Prineville Coffee Company Map:
Prineville Coffee Company Facebook Page: