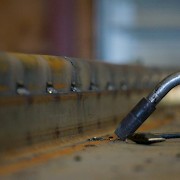 Phone1

: 541-416-1500

Fax

:

541-416-1021

Web

: fabtechmfg.com

Adres

:

2541 SW High Desert Drive Prineville, OR 97754

Category

: Steel Processing Manufacturer

SHARE





About Fab -Tech, MFG:
SERVICES
FAB-TECH, MFG is a full-service Structural Steel Fabrication company based in Prineville, OR. FAB-TECH, MFG has become an ever expanding Fabrication, Structural Steel and Powder Coating Company in Oregon. In addition to Structural Steel Fabrication we also provide a Project Management Team, Detailing and Miscellaneous Metals fabrication facility that enables us to be a full-service provider.
FAB-TECH, MFG specializes in a variety of tasks ranging from small miscellaneous projects, to large structural steel packages. Some of which include; parts on the world's largest Ferris wheel in Las Vegas, NV, the Oakland Bay Bridge, Data Centers in Oregon, North Carolina and Texas. Additional projects include:
Oregon State University in Corvallis, Oregon.
St. Charles Hospital in Prineville, Oregon
Barnes Butte Elementary in Prineville, Oregon.
BPA in Pasco, Washington and in Eugene for the Chemawa Sub-station.
FAB-TECH, MFG is highly revered as a solid company working with local contractors as well as international contractors on a broad base of projects. FAB-TECH, MFGprides its self on product quality, strict deadlines and ensuring the highest level of customer service and satisfaction. We are confident we can assist you with your project, no matter how large or small.
Our Team
Robert W. Powell – President/Owner
Lonnie Kowalski – Project Manager
Denise Barney – Office Manager
Jeff Campbell – Shop Supervisor
ccb #200327
REFERENCES
Architectural Steel
Data Center Panels
LCL Boom, Oakland Bay Bridge
Ferris Wheel, Las Vegas, NV
Redmond, OR Archway
Roof Frame
St. Charles Hospital, Prineville, OR
Planter Box
Fab-Tech Welders
Misc Steel
Staircase
Roll Formed Steel
Fab -Tech, MFG Facebook Page: