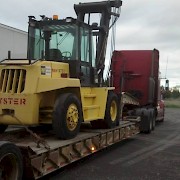 Phone1

: 541-447-3085

Adres

:

2400 NW Lieser Ln, Prineville, OR 97754

Category

: Trucking Company

SHARE





About Stinger Transport LLC:
Oregon based, small family-owned trucking company.
Ron Cholin established Stinger Transport, LLC in February 2000, utilizing 25+ years of experience in the industry including sales, dispatch and driving. We have an outstanding group of drivers and owner operators. They are experienced, work well together and have shown dedication and loyalty to us and our customers. All in all, this company's goals and most important philosophy is to provide: EXCELLENT CUSTOMER SERVICE.
Licensed for 48 states.
12 trucks
16 dry van trailers
1 flat bed trailer
1 belly dump trailer
Stinger Transport LLC Map:
Stinger Transport LLC Facebook Page: